Are you looking for a unique Healthy Hiking Spa Vacation with an emphasis on Rejuvenation?
Join us as we Travel the Worlds most Scenic Natural Landscapes!

"take a slice of paradise, some good heart-pumping hikes, a teaspoon of Yoga and meditation, healthy food and some inspiration . . .
you get the perfect blend of fitness and adventure!"

Delight body and soul as you step back in time to
explore ancient traditions and customs - the last pure
Shangri-La on earth!

Since 1990 SpaFari has led exclusive journeys
throughout Bhutan. Our steadfast relationships
with the locals provide intimate insights into the
beautifully preserved Dragon Kingdom, rated among
the happiest countries in the world!

Daily scenic wilderness day hikes wind up to Dzongs
and Monasteries, such as the Taktsang Monastery
("the Tiger's Nest") and the Lhakhang Kap Monastery
("the Temple of the White Dove"), farm villages and
high mountain schools. We are privileged guests with
monks and Bhutan's Government Ministers, and also,
if available, members of the Royal family.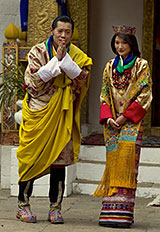 In the silence of this remote and lovely refuge, the dark virgin forests and pure mountain air will revitalize your senses. This earthly nirvana is filled with beauty at every turn, from lush river valleys, whitewashed homes, and terraced rice paddies, to fields covered in mustard and dwarf rhododendrons and majestic, snowcapped peaks.


We start with morning yoga - stretch classes, and relax at days end in unique picturesque hotels that include healthy Bhutanese cuisine and optional evening massages.

Our itinerary begins with adventuring the Paro Valley, historically the most important trade route to Tibet, and continues on to explore Thimpu, the capitol of Bhutan. Each day offers invigorating hikes (distances geared to participants fitness levels) and afternoons to peruse the artisan's quaint shops, colorful weekend markets, visits to museums, the National Library and the National School of Medicine. Following, we head to Punakha, the tropical garden region of Bhutan, with its magnificent Dzong situated on an island in the middle of the river. It is also the winter residence of the Central monastic body. After a few days we depart to explore the region of Phobjikha on the western slopes of the Black Mountains, bordering the Jigme Singye Wangchuck National Park where we are sure to see stray yaks while trekking part of the Gangte trail. Due to the large flock of black‐necked cranes that winters here, it is one of the most important wildlife preserves in the country. Our following days offer options to journey further east to Bumthang - with a 7-hour drive, or round-trip flight from Paro - with hikes and explorations in the serene cultural heartland of Bhutan. Alternatively, our schedule winds slowly back to enjoy our last days in Thimpu and Paro.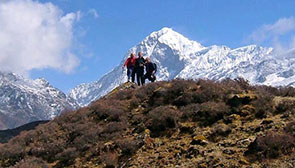 * Scheduled SpaFari adventures can coincide with Bhutanese festivals, which provide opportunities to capture a kaleidoscope of whirling dancers in colorful costumes. Frequently, during several days of the festivals, the King's Royal Dance Troupe, and specially trained monks, perform religious dances of great beauty, all accompanied by the deep resonate vibrations of long brass horns, drums, cymbals clashing and monks chanting.
After an inspiring day of hiking and cultural explorations, recount your tales over a healthy dinner. Then, slumber in a range of accommodations that match your chosen adventure - from unique comfortable upscale hotels set deep in the Bhutanese wilderness; to 5-Star Resorts and Spas. Private chartered flights are also available through Bhutan.
---
SpaFari in Bhutan
SpaFari in Bhutan adventures offered during April-May, and September, October-November * Festival Timeframes.
10-14 Day SpaFari in Bhutan adventures can include our choice accommodations in unique upscale boutique hotels and 5-star Spa Resorts
---