What is your Pleasure?
Picture yourself on a Spa'n'Ski week of fun, fitness and rejuvenation, in the Aspen/Snowmass magical winter wonderland.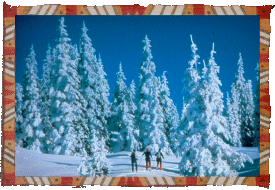 Take a week and experience a variety of fun winter activities: Cross-country skiing in the quiet snowy splendor of the Colorado backcountry, alive with the smell of blue spruce and pine, Snow-shoeing up a majestic mountain, and a thrilling downhill ski day. How about starting your day with Yoga, and soothing your soul at days-end with a revitalizing massage, in your fireside accommodation.
Each day offers a variety of suitable terrain for the varying levels of the group participants. Private lessons are available at an additional cost, to produce fast results.
.
SpaFari custom Spa'nSki (minimum 4 to a group) weeks are available from December-March.
Advance bookings requested.
Afternoon activities include privileges at our Athletic Club. This state-of-the-art 19,000sq.ft. facility includes weight training, Pilates and spinning. Classes include Tai Chi and aerobics, plus a variety of optional choices for racquetball, squash, basketball and indoor tennis.
Evenings: participate in a variety of our empowering healthy lifestyle discussions; swim in our heated swimming pool, and soak in a Jacuzzi while you look up to a million stars, as only seen through this rarified atmosphere. Craving some colorful nightlife? Stroll around Aspen at night, listen to some music, and see what makes this Victorian town of the 1880's a premier destination resort.
Delicious healthy breakfasts and dinners are served family style in the open, airy Lodge dining room with views of Snowmass Mountain. Other evenings, our healthy dinners are enjoyed in a variety of Aspen's restaurants. Healthy lunches are eaten in restaurants, on the mountain, or thoughtfully prepared by our private chef and packed specifically for our daily adventure.
Set in the splendor of the Elk Mountain Range, our full service resort, The Snowmass Club, offers all the comforts of home, the attentive service of a fine hotel, and the extensive amenities of the country club lifestyle. Our newly renovated deluxe villas offer townhome-style living with complete kitchens, fireplaces and offer magnificent views.
Should you wish to make an appointment with Kristina's husband, Aspen's Holistic Medical Doctor, Rob Krakovitz, MD, call (970) 927-4394. Dr. Rob has 22 years experience in many aspects of Alternative Medicine, Natural and Anti-Aging Therapies.