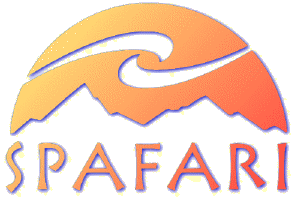 Are you looking for a unique Healthy Hiking Spa Vacation with an emphasis on Rejuvenation?
Join us on a Fit-Trip as we Travel the Worlds most Scenic Natural Landscapes!
____________________________________________________________
"take a slice of paradise, some good heart-pumping hikes, a teaspoon of Yoga and meditation, healthy food and some inspiration . . .
you get the perfect blend of fitness and adventure!"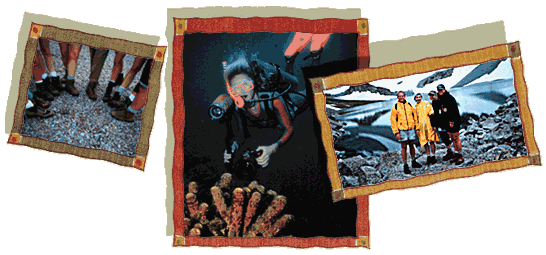 Comfort and function are the key words for preparing for your Spafari Adventure. Our locations typically have warm, sunny days and cool, starry evenings. To take full advantage of all of our activities, we suggest that you bring the following trip essentials for the adventure:
Light weight hiking boots (preferably broken in with ankle support and treaded soles) Best choice: Merrell, Montrail, Asolo, Nike (fits all kinds of feet), Vasque (better for narrow feet).
Casual after-hiking shoes, with treaded soles.

A backpack with lumbar support and waist buckle, including a 'camel-pack' water pouch.

Or, a backpack with

waist buckle and two water bottles (water holders on outside of pack)

Rain jacket and rain poncho
Flashlight and a whistle.
Warm top, or vest.
For sun sensitive skins: we recommend outdoor clothing that has a 30 SPF and 90% protection. Best choice: Sun Precautions 1 800 882-7860 www.sunprecautions.com
Hat: light colored with brim (dark colors draws heat to the head) and synch.

Best choice: hats with 4" brims and synch.

Lightweight hiking pants and hiking shirts. Zip-off pants with shorts (optional).
Other website options for hiking clothes: www.exofficio.com or www.rei.com
T-shirts and tights (or loose fitting light-weight pants) for stretching/Yoga.
Tevas or beach shoes for rafting, rivers and beach for Aspen, Bali, Dominica.
Swimsuit (*see the SpaFari trips that offer swimming)
Socks (look for "wick" hiking socks that take the moisture out).
Gloves for climbing, sun or cold days – can also be biking gloves.
Sunglasses, sunscreen, natural bug repellant.
General anti-biotic for emergencies (consult with your Doctor for the best kind), 500-1,000mg Vitamin C tablets. Please call us before your trip if you are interested in an anti-jet stress homeopathic.
Toe nails clippers, journal, toiletries, and personal items.
Camera and film.
Evening dinner wear to be mostly casual; a little dressier for Aspen, Santa Barbara, and Lake Como.
Please note: All the items listed are very important, try not to forget anything!!


Destinations | Schedule & Rates | Q & A | Corporate & Specialty Trips
Food & Lodging | Testimonials | SpaFari Products | Newsletter | Contact Us

SpaFari
P.O. Box 325 • Old Snowmass, Colorado, U.S.A. 81654
Phone: (970) 452-9339
E-mail: hike@spafari.com